So there I was last night, watching Justin.tv. a couple of streams, a Live Halo 2 stream and live coverage of Chirp, the Twitter Developers Conference.
My net was actually behaving for once, watching two Justin.TV streams, sending and receiving a Skype video chat, as well as uploading tracks to the LSRfm.com Jukebox.

Today is the final day of Xbox Live existing for Original Xbox and Original Xbox Games, most predominately Halo 2, what this means is that you can still play the game locally, but you can't go online via Xbox Live and play match making/custom games. They are going to turn those servers over to the Xbox 360 Network. Bungie News article about the end of Halo 2
So, no more Halo2, unless you're a Xbox KAI user for example or LAN PARTY!!!!
I have been up all night and as of 9am BST (+1) this morning, the servers are still on, so get you're Halo 2 on!
Back to Twitter/Chirp, Twitter has launched their new Developers website, which essentially brings together the API documentation, the Oauth application registration, and API status pages to a single location.
Twitter also spoke about @Anywhere which essentially allows you to integrate some aspects of Twitter into your website, thru the use of a single javascript call.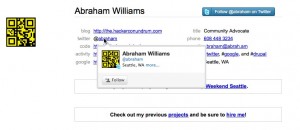 You can allow users to tweet from your website, automatically convert any @username to the new hovercards. See the example from @abraham on (His Site).
And then allow users to follow you, without bouncing to twitter, other than a popup to authenticate you to twitter and allow the Anywhere App access.
Check Anywhere out at http://dev.twitter.com/anywhere/ and checkout what The Guardian are doing with it.
On a unrelated point, when you login to Justin.TV via twitter, it is automatically posts anything you put in the video chat box, to your twitter account, along with links to what you are watching, bit of a spam fest, if you a) don't know about it and b) forget to turn it off. But it led to this: Read and LOL